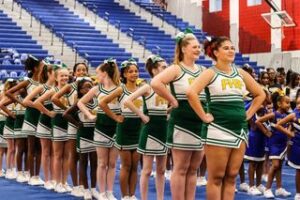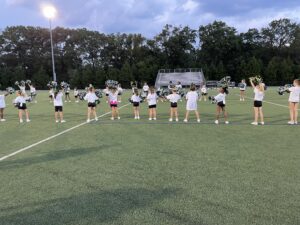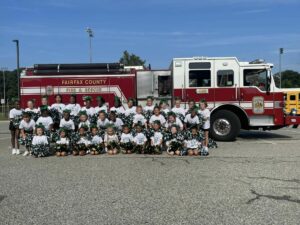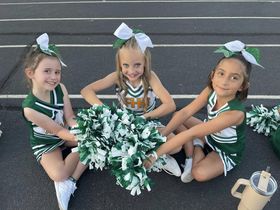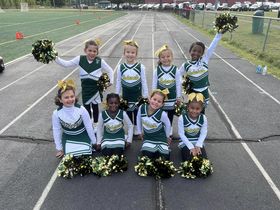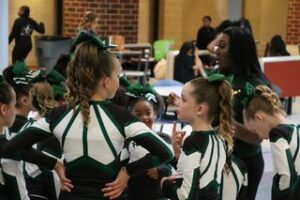 Yes, Sideline Cheerleaders are required to purchase:
-white athletic sneakers, preferably cheer shoes (no Crocs, sandals, or basketball shoes)
Optional Purchases :
Practice Uniforms 
Team Spirit wear
What is provided:
-Cheer Uniform (skirt and top) *to be returned at the end of the season
-Pom-Poms *to be returned at the end of the season
-Team Bow 
- Socks and Bloomers
Competition Cheerleaders will be required to purchase a uniform package that includes a competition uniform, shoes, briefs, and a team bow. This package belongs to the cheerleader and the uniform can be used for future competitions. 
No. The number of cheer squads will depend on the seasons registration numbers. Each squad will cheer at one home game a weekend. 
Squads are not assigned to specific teams.
Any away game travel will be voluntary.  
Please Note: There is no guarantee that cheer siblings will cheer for football siblings.  
Competition is open to any Fort Hunt registered cheerleader ages to ages 7-16
Spring Season Competition is open to any cheerleader registered for the spring season. The spring season focuses solely on creating and learning a routine to compete at an All-Star Varsity competition. 
Fall Sideline Season competition is open to any cheerleader registered for the fall season who has met the required attendance of participating in a minimum of 5 games for the season. The fall sideline season focuses on elevating community spirit during Fort Hunt Football home games, as well as performing a routine at the Fort Hunt Cheer and Football Banquet, and Alexandria Winter Invitational Cheer competition. 
Our home game field is Sandburg, which is a synthetic turf field. As a member of the Fairfax County Youth Football League (FCYFL), Fort Hunt is one of 24 clubs participating in this League. In order to make this year's football season a positive experience for you and your child, we would like to provide you with some important information as it pertains to the FCYFL game schedules so that you are fully informed of League expectations prior to registering and making the commitment to participate in Fort Hunt and in the FCYFL.
(a) Game schedules are NOT finalized until after the last weigh-in. The League needs to first understand how many teams are participating before a schedule can be completed.
(b) Approximately 70% of FCYFL games are scheduled on Saturdays.
(c) Approximately 25% of FCYFL games are scheduled on Sundays.
(d) Approximately 5% of FCYFL games are scheduled on weeknights (Mon-Fri).
(e) All game scheduling is done regardless of outside factors such as community events;
(f) Weekend games are scheduled without deference to religious denominations. The potential exists that conflicts may occur and the FCYFL will go ahead and play scheduled games. Please be aware that the possibility exists for a conflict and personal decisions must be made by the family whether to participate or not.
(g) All game scheduling is done by the FCYFL based upon allocated space available to each individual member club.
(h) When games are postponed due to inclement weather, they must be made up as soon as possible because of the limited facilities (fields) available, the short seven-week regular season; unpredictability of weather, play-off and championship games, and the Thanksgiving Holiday. This means games could be rescheduled as quickly as the day after a postponement!
(i) With the introduction of the new turf fields around the county, FCYFL will schedule and reschedule games on these weatherproof sites in the best interests of finishing the season on time and not canceling any games! This scheduling pattern takes precedence over the "home" game concept experienced in the past. When possible, we will continue to schedule home games as in the past, however, "playing the game" is the most important goal we desire. In the next few years, sports fields in our region will undergo a MAJOR renovation to synthetic turf surfaces and we must be flexible and adjust ahead of the curve.
(j) The availability of game officials and the weather are the primary reasons for the initial schedule and subsequent schedule changes.
Please keep in mind that the FCYFL has (24) member clubs from Gainesville to Alexandria, from Woodbridge to Loudoun County. The FCYFL tries to "look" at weekly match-ups, time and location of games when schedules are developed. However, the availability of facilities (lighted) or lack of lighted fields, significantly impacts "convenient" geographical scheduling. Teams are matched by draw, not by geography, so the possibility exists in each weight class that all clubs may play any other club, anywhere in the county. We are cognizant that traffic, early morning, and late night games, are considered an inconvenience by some people. The bottom line is that the FCYFL is an organization that has over 7,000 players, a limited number of officials; limited number of lighted and turf fields, and trying to schedule all these games in a 7 week regular season is a challenge, to say the least, so we appreciate your patience when inclement weather causes everyone's schedule to change.
All Participants, Parents, Coaches, Referees & Community: The Fort Hunt Youth Athletic Association (FHYAA) is committed to creating a safe environment for youth sports and being a conscientious community member by reducing the spread of COVID-19. We are dedicated to creating a safe environment so we can continue to provide recreational sports where participants learn teamwork, develop friendships, self-confidence, and good sportsmanship, empowering our young athletes to become responsible citizens.
This policy, utilized by all FYHAA programs, serves to protect the well-being of players, coaches, referees, officials, parents, and spectators, who all must abide by these rules. It is updated as relevant national, state, and local health regulations and guidelines change. This protocol provides the latest information for FHYAA safety requirements, however, please review any additional sport-specific COVID-19 protocols to ensure compliance for that sport.
UPDATED:  03/2/2022 regarding COVID-19
The Centers for Disease Control and Prevention (CDC) released updated health guidance that included new metrics for determining COVID-19 community levels. Based on this new guidance, Fairfax County's current COVID-19 community level is low. 
Based on these new metrics and CDC guidance, FCPS has new guidelines. Everyone - including guests and athletes utilizing FCPS facilities - may choose if they wear a mask starting Tuesday, March 1. There are no mask requirements at the current time.
Fairfax County Health Department guidance on isolation can be found here and should be utilized towards positive cases:  https://www.fairfaxcounty.gov/health/novel-coronavirus/toolkit-slow-spread.
The Fairfax County Health Department (FCHD) is no longer recommending that individual/sporadic cases of COVID-19 be reported to the Health Department from sports leagues and coaches.
Our philosophy in Fort Hunt Football and Cheer is that every boy and girl who wants to play Football and Cheer should be able to do so, regardless of their financial situation.
If your family is in need, there are two ways to receive financial assistance for Fort Hunt Football and Sideline Cheer.
Fairfax County Youth Sports Scholarship program
Once you have properly finished the Fort Hunt online registration form, the following additional steps are needed before your child's registration is considered complete.  Until all these steps are done, your child's registration is considered incomplete and they will not be assigned to a team and are not allowed on a field or court for either practice or games.
 

Download application

, properly complete, and sign the Fairfax County Youth Sports Scholarship program application.

 

Provide proof

that your child is currently receiving assistance by:
○   Attaching a copy of your official document that signifies your child is receiving aid.
○   or obtain the signature of school counselor, staff, case worker, or other official on appropriate line of Scholarship application form.
●   Give signed application form and proof of aid to your sports commissioner and/or registrar.
Once you have completed the online registration AND provided appropriate paperwork to the sports commissioner/registrar, your child's registration is complete.
FHYAA wants to ensure that every child has an opportunity to participate in youth sports regardless of his or her financial situation.  The Fairfax County Department of Community and Recreational Services (DCRS) provides registration fee scholarships.  To be eligible for a county scholarship, a child must be currently enrolled in a public assistance program such as Free or Reduced Lunch, General Relief, Food Stamps, ADC, Foster Care, Medicaid, or SSI.  In addition the child must live in Fairfax County, be enrolled in K - 12, commit to attend 80% of practices and games, and not be currently served by an existing scholarship or fee waiver program.
Special requests for assistance
If you are not eligible for the above Fairfax County assistance program, but still require financial assistance, a limited number of special requests can be sent directly the cheer director , Bobbi Lackey at bklackey.athletics@gmail.com