See below for full discussion of all uniform items, and links to outlets selling them.
Game Uniform
Each Fort Hunt Rugby team determines its own uniform(s), based on player inputs and coaches' decisions.
Players are responsible for having uniform rugby shorts and team socks.  Match jerseys are the property of the club, and will be handed out and collected at matches.
Other player-supplied equipment:
Studded sports shoes ("boots").  Molded-sole boots are fine.  Gridiron football boots that have a screw-in toe stud must have the toe stud removed.
All tackle players MUST wear a personally-fitted mouthpiece.  This is non-negotiable, the policy of both Fort Hunt Rugby and Rugby VA.
The following player-supplied gear is also permitted, subject to referee inspection and approval:
rugby gloves/fingerless mitts; full-fingered sports gloves are not permitted
a brace or elastic wrap (with no hard plastic or metal components)
scrum cap
padded shirt
Practice Uniform
Players are responsible to report to training in proper rugby kit:

Boots
Rugby shorts
Socks
Mouthpiece
A sturdy shirt, ideally a proper rugby jersey; NOT a t-shirt
Prohibited Equipment/Uniform Items (for both practice and matches)
Eyeglasses: There is only one form of World Rugby-approved goggles; all other forms of eyeglasses are explicitly prohibited.  Players with severe vision problems should get contact lenses.  Racquetball or other sports goggles are not permitted.
For those players who wear removable-stud gridiron football boots, the toe stud must be removed from each boot.
No watches, bracelets, rings, necklaces, earrings, or visible/accessible piercings.
No shorts with chains, rings or metal components, an exposed zipper, buckles, rivets, or any sort of exposed or internal hard plastic or metal. No belts with any shorts, regardless of composition.
Items in pockets.
No braces or other gear containing hard plastic or metal, and none with exposed struts or structures, even if padded; the referee will examine this kind of equipment prior to a match.
No player may play with a cast of any kind.
Field Equipment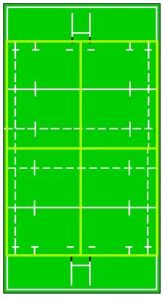 Gear for a rugby pitch is quite simple, consisting of lines on the field, flags, and two sets of padded uprights.  And a ball.
Field markings/lines are defined and discussed in the "The Pitch" section.
For home matches, we mark our own field, which essentially means putting up the pads onto the football field goalposts and placing the flags at the proper place on the pre-marked football field.   This is a player responsibility and will be assigned and supervised by coaches.
In the unlikely event we have to mark a grass field, the team has all of the required gear, and this will be a player responsibility, supervised by coaches.
Player Equipment
This is where you can buy gear online:
The referee is required to inspect and approve both the field and player equipment prior to each match.  The referee is empowered to disallow play until the field is deemed safe for play, and also is required to disallow any player's participation until identified unsafe/prohibited playing equipment/uniform is corrected.
Boots:
We play on both turf and natural-grass fields, so a pair of boots that are suitable for both environments is the best way to go.
These can be any style, any color, as long as they meet basic safety specifications.  Rugby boots may have screw-in or molded studs, but may not have a screw-in toe stud. Boots that are in extreme disrepair, especially boots where the plastic sole is beginning to shear from the upper present a cutting hazard, and the referee may compel the boot to be repaired, or may not allow it in the match.  See here for a number of available rugby boots.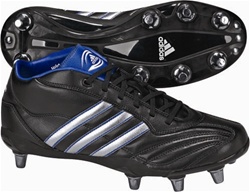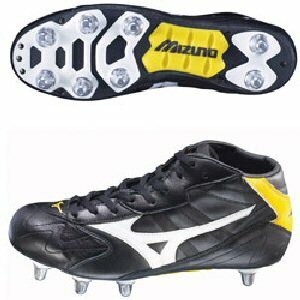 We do not recommend the purchase of rugby boots (shown below) for first-year/novice players. General-purpose molded-sole boots (soccer or multi-sport cleats) are just fine for a beginning player; save the purchase of rugby boots for when the player has truly decided that rugby is a sport he/she wants to continue playing.
Players looking for cheap boots should go to the thrift store at Sherwood Hall and Route 1 or the local Goodwill store–there is always a good selection of boots here, usually general-purpose molded-sole boots.
Socks: These can be any style, any color. Fort Hunt Rugby usually plays in high-rise, over-the-calf black socks.  Coaches will specify sock details.
Shorts: Tackle players need to have and wear proper rugby shorts.  Rugby shorts are usually cut high on the thigh, and are made of heavy cotton to withstand a great deal of extreme use.  These can be any style, any color, although we prefer black. Steamroller Rugby offers custom Fort Hunt Gators and Warriors shorts.
Shorts with metal fittings, rings, or rivets are not allowed, as they are dangerous.  Shorts with any kind of inflexible or rigid hard plastic or metal construction (think zippers), whether visible or not, are not permitted.  Belts are not permitted.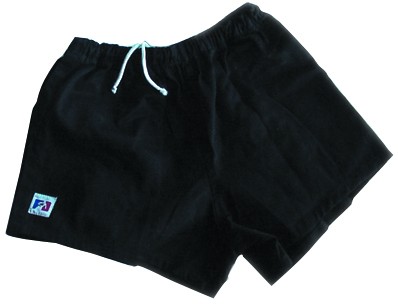 Loose-fitting nylon shorts for soccer or basketball are not recommend, as they are too elastic and often do not tie at the waist (they are very likely to be pulled down in full-contact action).  Also, these shorts are not sturdy enough to withstand full-contact tackle rugby and are particularly unsuitable for forwards who must lift and be lifted in lineouts.
Players should wear well-fitted compression shorts under their playing shorts.  A cup for boy players is permissible but is not recommended, as the injury danger is minimal and the constant running in rugby will prove to be highly uncomfortable if wearing a cup.
Top/Jersey: We recommend for tackle rugby that practice tops be very sturdy, ideally a proper rugby jersey.  Loose-fitting or flimsy tops are likely to be pulled off, stretched, or ripped.  The club owns rugby practice jerseys for use in tackle practices.
Mouthpiece: This is mandatory for all Fort Hunt Rugby tackle players in practice and in games.  The club offers moldable mouthguards for $5 each, available at training and prior to matches.  Dental and mouth injuries are unlikely in a touch practice or match, but accidents can happen, and a mouthpiece will go a long way toward reducing the severity of the injury or will prevent it altogether.  The mouthguard must be personally fitted to the player–no borrowing from a buddy, and no popping in a brand-new, unfitted mouthpiece.  Coaches and referees will inspect mouthpieces before training and matches.
We recommend players buy the boil-in-water, mold-to-your-teeth kind of mouthpiece.  No straps may protrude from the mouth, so cut off all excess.  If in doubt about a mouthpiece, talk to coaches and your family dentist.
The West Potomac Academy at West Potomac High School offers a program where they will custom-mold a mouthpiece for you.  Contact them for more information on the program, 703-718-2500.
Players should have at least three fitted and ready mouthpieces at all times, so when one gets lost the others are immediately available.  One is in the player's pocket, one in his/her kit bag, and one is at home.
Wrap/Bandage: A player may have any form of wrap or bandage on any part of their body, as long as it does not contain or cover hard plastic or metal.  These will be subject to referee inspection.
Optional Player Equipment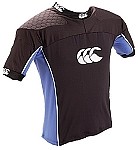 Padded shirt: These are rugby-specific undershirts which contain modest shoulder and torso padding (photo).  These are permissible to wear only under a jersey.  Female players may wear chest padding; see our listed suppliers, above, for official information on approved female chest padding.
Scrumcap: This is a full-head cap which is analogous to a wrestling cap, designed to protect ears from twisting and cartilage injury, and to prevent impact cuts/tears, to which scrum/forward players are more susceptible.  THIS IS NOT A HELMET.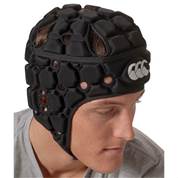 Fort Hunt Rugby does not recommend the use of a scrum cap for its players, as players may believe it to be some form of helmet, and therefore–consciously or unconsciously–engage in training and match behavior which could be dangerous to teammates, opponents, and themselves.
Shinguards: These are permissible to wear for all players, but usually the only player who may need to wear them is the #2/hooker, given his/her job in the scrum.  Given the fact that scrums are not that fiercely contested in youth rugby, a youth rugby hooker generally does not need to wear shinguards.  Shinguards are not recommended for any other players.
Gloves: All players may wear gloves (in rugby terms, "fingerless mitts") to assist with grip.  Full-fingered gloves such as football receiver gloves are NOT permitted; see these examples of rugby-specific gloves.  All gloves will be subject to referee inspection.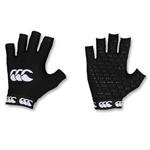 Prohibited Player Equipment
Players must remove watches, rings, bracelets, and necklaces prior to practice and play.  Tackle players with pierced ears must remove the earrings–taping over earrings is not permitted.  Any other body piercing, if visible or likely to become exposed during practice or play, must come out.  All will be subject to referee inspection.
No player may wear external, "headgear" dental equipment in tackle rugby.  Players must remove a retainer or other removable dental equipment before any practice or play.
Any form of cast or bracing which contains a hard material, such as plaster, hard plastic or metal, is prohibited, whether under a player's clothing, or encased in a cover/padding.  No player may play with any form of cast.  Braces for knees and arms are permitted, but only if constructed of flexible plastic and/or fabric.  All will be subject to referee inspection.